The Human Rights Summit at The Dodd Center for Human Rights will bring together scholars, activists, policymakers, artists, and business leaders from across the world to examine the key human rights challenges of our time and generate new ideas to promote global justice and human dignity.
Rooted in the deep academic and research expertise of UConn's Gladstein Family Human Rights Institute and Dodd Impact's record of public engagement, the Summit will meet the pressing need for more open dialogue, cross-sector collaboration, and innovation in the field of human rights.
The Summit will embody the interdisciplinary, engaged approach to human rights that is the hallmark of human rights programming at the University of Connecticut. Insights will be drawn from fields ranging from law to literature and engineering to education – with an impact aimed far beyond UConn.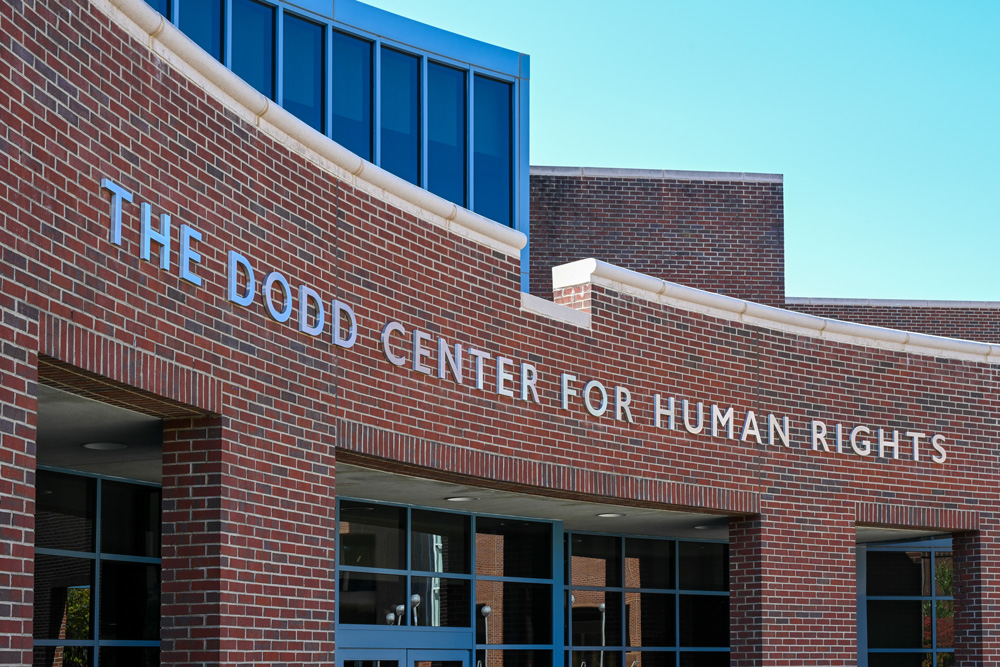 Location
The Human Rights Summit will take place at The Dodd Center for Human Rights, harnessing the convening power of the Center, where we have hosted President Biden, President Clinton, and a range of events and exhibitions since its opening in 1995.
The Dodd Center is a locus of human rights activity at UConn and exists to ensure that the lessons of the past remain relevant today. It is home to the Gladstein Family Human Rights Institute, the Center for Judaic Studies and Contemporary Jewish Life, and the University Library's Archives and Special Collections. The Dodd Center celebrates the lives and legacies of senators Thomas J. Dodd and Christopher J. Dodd, who served over 50 combined years in the United States House of Representatives and United States Senate representing Connecticut.
Our Conveners
Organized by Dodd Impact, a program of UConn's Gladstein Family Human Rights Institute, the Human Rights Summit is made possible by the support of generous donors.
Dodd Impact
Dodd Impact serves as the outreach and external programming arm of human rights at UConn. It is dedicated to preparing the next generation of citizens, human rights leaders, and change-makers. Programs and initiatives are focused on four key areas of engagement: human rights education; business and human rights; democracy and dialogues; and human rights film and digital media.
Gladstein Family Human Rights Institute
The Gladstein Family Human Rights Institute advances human rights knowledge and practice through research, teaching, and engagement. As a university-wide program under the Office of Global Affairs, HRI supports interdisciplinary inquiry into the most pressing human rights questions and prepares the next generation of human rights advocates across a range of fields.